We designed a romantic getaway that included a tiny house, creative workshop, spa treatment, private tours at a winery and brewery, catering and yoga! All in a private setting that kept the romantic bubble alive! Mr and Mrs Romance – Jim and Christine Butcher, got to experience the itinerary so we could showcase it to you!
Day One
As checkin to the tiny home was from 2pm first on the itinerary was Two Figs Winery.  A family-owned boutique winery that sits atop a hill in Back Forest NSW. Specialising in cool-climate wines that reflect the unique climate of the south coast and with a passion for winemaking, Two Figs hold intimate private tastings, spending time with the visitor to ensure a personalised service is offered.  "The views across the property really capture the sense of the south coast, it was a great afternoon tasting some lovely wines and being educated in a relaxed private setting was wonderful for a couple to enjoy".
Arrival at Willow Springs Farm, and checking into The Lilypad, a tiny home surrounded by large gardens that offer privacy whilst not being far from the towns of Gerringong and Berry.  It is nestled in a corner of the property hosted by owners Sam and Charlie who live elsewhere on the property with their two dogs and are completely lovely.  The home itself is a lovely fitout that offers a sense of cozy whilst being fuss free.  With the fire pit just out the front, views across the garden and lake and a verandah to enjoy its the ultimate escape for two people.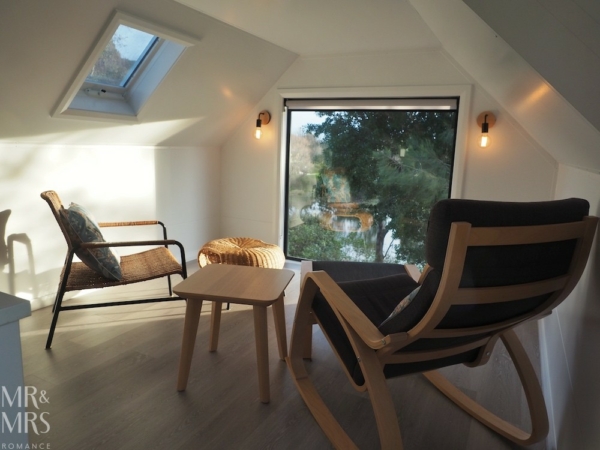 An early evening session is not far away at Soul Clay Studios run by Zeynep and her team.  Their clay date night is a two hour experience where you get to work the wheel, make three pieces that will be glazed and fired for you all with a glass or two of bubbles and a graze!
The first night was a dinner menu of morrocan chicken tangine with carrots and olives, herb couscous, fresh cabbage salad and a date pudding for dessert. Designed and delivered by The Valley Table. Local chef Angie Sceats designs a menu that can be ordered online weeks before your stay.  Get her to bring a hamper (request the granola – its the best) for the morning so a slow start to the day is how you begin.
Day Two
After breakfast from The Valley Table we asked South Coast Massage and Spa to arrive in the morning and offer a couples massage that was setup in the home and enjoyed.  Jodie arrives and creates a spa experience in the home with fragrance, oils and spa treatment that is indulgent and luxe.  This sets the day up to feel relaxed and restored for the fun that lies ahead.  "This should be part of everyones stay" said Christine "its the perfect way to unwind in the comfort of your accommodation and relax".
Taking a walk around the property or settling in with a book quickly took the morning away until an afternoon at Stoic Brewery in Gerringong where the head brewer met Jim and Christine and offered a private tour of the brewery followed by a private tasting to enjoy.  "Fun and informative" where the words used to express a 2 hour session at Stoic, "with the tasting showcasing a range of beer that everyone would enjoy!"  With the Stoic now having a kitchen to match their great produce its definitely a spot to enjoy!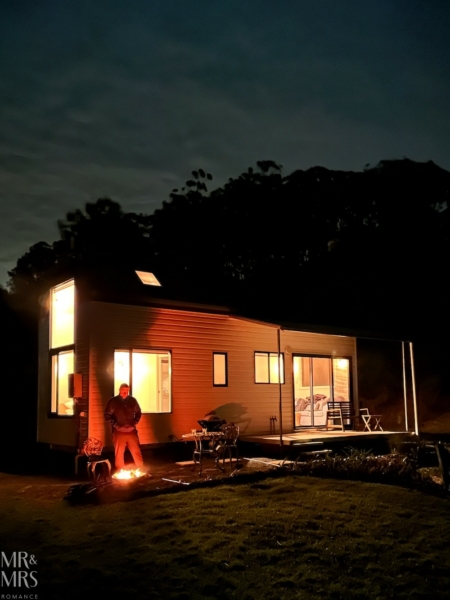 Back to the home for an evening around the fire pit, the sounds of nature, a glass or two from Two Figs Winery and dinner by Dine In by Brooke.  Brooke designed a meal of Kingfish Sashimi, Lamb shoulder with a truffle mash, and vegetables with a red wine jus.  A beetroot salad to enjoy on the side, this meal was perfect to end the day and soak up the tastings from Stoic! "restaurant quality without leaving… perfect"
Being snug and warm in the bubble of  the Lilypad tiny home meant for early nights and ready to greet Jess from Hope Springs Yoga who offered a personalised yoga and breath class for Christine to enjoy.  "The benefit of a one-on-one session with Jess was that I got to get shown a sequence of yoga poses and be taught a vinyasa I can take home with me and practice". Christine said.
After that it was time to enjoy the breakfast hamper by Dine In by Brooke which was croissants, fresh fruit and homemade muffins, then pack up and head home.  "Two days away that felt like a week, a wonderful way to explore and enjoy an area of the south coast… lets do it on repeat!"
Click through to stay at The Lily pad and add the itinerary by clicking through here – Romantic Getaway – and enquire directly with the providers or ask via the curate for me button and we can arrange.