The South Coast might just be one of the most romantic places in Australia. This is a place to experience all that's beautiful about Australia in one trip: golden coastlines, turquoise waters, wildlife-rich national parks, endless open roads, wineries, and much more. If you're looking for a romantic getaway on the South Coast, NSW, look no further. Here are five of the best places to escape to – with tips on what to do, where to stay and how to celebrate with that special person in your life…
Coastal walking, swimming, cocktails and relaxation – these are the best reasons to visit Shoalhaven Heads for a romantic South Coast getaway. This town lies at the tip of Seven Mile Beach – great for surfing and beach days – with the Seven Mile Beach National Park running alongside for exhilarating trails through the pretty foliage.
STAY:
The Bangalay Villas and Holiday Homes
The Bangalay Luxury Villas is a boutique South Coast Resort complete with onsite restaurant located 2 hours south of Sydney and 2.5 hours from Canberra.
With luxury accommodation and the beach or golf at your doorstep, this property is great for workshops in-house, horseriding with a picnic or a winery tour.
A wonderful Palm Springs inspired motel that has been renovated and offers lovely touchpoints, the most comfortable beds and the convenience of a one night stay only a short walk from the town centre.
Have a look at all the stays in the wonderful town of Berry
EAT:
Always make time for the Berry Tea Shop where you will find the best scones with jam and cream along with a wide choice of tea, grab a table for two.  Berry is only a short distance away from Gerringong, Gerroa, Shoalhaven Heads and Nowra.  With wonderful dining opportunities and homeware and living shops to explore this a historic town that encourages an exploring handholding stroll.
DRINK:
Cocktails 
Join the wonderful SocialLife where you can take part in cocktail making, listen to some local music or stumble upon a guest speaker of exhibition!
DO: Cliffnics
With Outdoor Raw, you can head off for one of their world-famous Cliffnics: devour rustic, delicious picnics while suspended off the edge of one of the epic Shoalhaven clifftops.

Endless golden sand and verdant green hinterland – these are two of the most prominent features of Gerringong, a town once known for its rural dairy culture. The area is loved for Werri Beach, a cool surf strip with large sand dunes and even larger waves. For couples, it's a lovely area to get lost among the countryside.
STAY: The Shore at Gerringong
The Shore stands on the shores of Werri Beach – great for couples looking to splash out on something large and luxe. This boutique home takes barefoot luxury to the next level, with multiple light-filled living areas, a gorgeous master bedroom and a cooling pool out front.
With so many wonderful stays in Gerringong find one to match your getaway.
EAT: The Hill Bar and Kitchen
You cant beat the views, bar and kitchen at this great Gerringong eatery.  With a pub feel and a great established wine bar, cocktails and beer its a great way to work through the afternoon.
DO: Couples Massage with South Coast Massage and Spa
Enjoy a relaxing couple's massage from the comfort of your own holiday home. South Coast Massage and Spa is a luxury mobile spa, with over 15 years' expertise in the wellness industry. They come to you, bringing everything needed for a calming, restorative treatment during a romantic getaway on the South Coast NSW.
BUY: Ziba Lifestyle
Ziba Lifestyle in Gerringong is where you will find something great to wear around town, pick up the sunnies you left behind or grab some cute earrings to finish off an outfit.
Discover the natural beauty of Jervis Bay – known for having some of the world's whitest sands. The near-translucent waters house an abundance of marine life, including bottlenose dolphins, fur seas, penguins and weedy sea dragons. At night, the sea literally sparkles: a result of the bioluminescent light show performed by the algae that live in the waters. It can't get much more romantic than that.
STAY: The Villas of Huskisson 
The Villas of Huskisson are Worrowing's premier beach accommodation – an adult-only retreat, perfect for a romantic getaway on the South Coast NSW. The brand new white weatherboard villa is situated overlooking Huskisson park and beach, making it a short stroll across the road from a number of cafes, bars, restaurants and local attractions.
DRINK: Jervis Bay Brewery
In Jervis Bay, they are constantly reminded of the good stuff in life. And Jervis Bay Brewing Co is here to make sure they enjoy it. With great brews, a great beer garden and great vibes, they're a unique experience in the area. They have a different food truck every day and also cater for non-beer lovers with a selection of wines and soft drinks.
DO: Go kayaking
Explore Jervis Bay with a guided Sea Kayaking tour for all experience levels. Kayaking tuition from novice to instructor, customised training for Adventure Holiday packages and more! Professional Instructors running training.
DO: Go Diving
Woebegone Free Dive offer guided snorkelling tours from the beach and boat, as well as three-day freedive training courses in the Jervis Bay Marine Park – suitable for all ages and abilities.

This might be one of Australia's most beautiful valleys – a great place for a romantic getaway. Rich green pastures, lush rainforest, twinkling rivers and very few crowds make it one of the South Coast's true hidden gems. Stroll the main street, dating back to 1870; kayak on the quiet rivers; or explore one of the local farms, where produce is always fresh and delicious.
STAY: Equanimity
Equanimity is a luxurious 3-bedroom home, just a short stroll from the picturesque village of Kangaroo Valley. Positioned amongst the trees with direct river access, you can enjoy calming views of the surrounding wilderness. Fish for bass or enjoy a swim in the river, with a picnic on the bank for a lazy afternoon.
Find more wonderful stays here
EAT: Caterina Catering
Caterina Catering offer inhouse catering for all occasions! We can drop off hampers from breakfast to dinner along with having a chef inhouse.  We cater for all tastes and infuse farm to table produce when possible.
DELIVER: The Valley Table
A home delivery service for gourmet fresh meals around Kangaroo Valley, Berry, Gerringong and Gerroa. Just go to the website link see the weeks menu in advance, order it and it will arrive for you to enjoy.
DO: Outdoor adventures
Go canoeing, kayaking, bushwalking, abseiling, rock climbing, or mountain biking in the beautiful Kangaroo Valley. Kangaroo Valley Adventure Co. lead you on guided expeditions, taking you to the heart of the valley – said to be one of only seven enclosed valleys in the world.
GO: Horseriding
What could be more romantic than a couple's horse ride, ending at a Champagne picnic? With Bella Cavallo, you can ride through the beautiful National Parks with a guide, enjoying trail rides that clear the mind and excite you.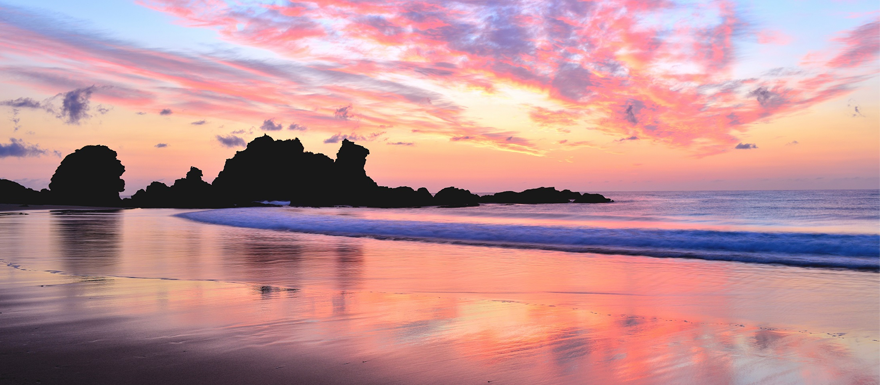 The beautiful Sapphire Coast lies in the far southern reaches of New South Wales. As the name suggests, it's all about the ocean, which sparkles next to the white-sand beaches. Visit for rolling wilderness, great fishing, exhilarating bushwalks, fresh-shucked oysters and one of Australia's best whale watching destinations, Twofold Bay.
STAY: Lotte's Hjem
This 150-year-old weatherboard cottage is located in the art hub of the Sapphire Coast – close enough to town to reach the shops, but far enough away to enjoy some peace and quiet. The home is filled with imported French antiques, with a cosy fireplace to snuggle up beside. The garden is also overflowing with fresh produce, which you're welcome to harvest for dinners in the beautiful kitchen.
EAT: A locally-inspired picnic
A Pinch Of Yum creates picturesque grazing tables, boards and picnics across the Sapphire Coast. The food is abundant and beautifully presented, using local fresh fruit and produce. They can get a picnic set up for you on arrival with all your favourite treats – a unique way to celebrate a romantic getaway on the South Coast NSW (or maybe an opportunity to pop that special question?).
DO: Exercise together
For all the active couples out there, Tathra Beach PT Studio is a great spot for a private training session. They often work with couples holidaying on the Sapphire Coast, helping to inspire, empower, and highlight the importance of living a healthy and active lifestyle. Book a session while you're in town and work off those holiday carbs.
GO: Kayaking
Region X offer award-winning Guided Kayak Tours throughout the Batemans Bay Marine Park, not far from the Sapphire Coast. They also lead coastal walks, overnight stays, climbing, hikes and glass-bottom kayak tours. You might discover an army of soldier crabs for the first time, get close to stingrays and other marine life, or sample freshly-shucked oysters straight from the river.
---
WE CAN HELP YOU PLAN
Whether you want to pop that special question or organise a romantic anniversary weekend, get in touch. At South Coast Experiences, we're here to help you plan the perfect trip – free of charge – so please speak to us if there's anything we can do to make your planning easier.
We've also curated the perfect Romantic Stay weekend, complete with hampers, massages and long walks on the beach. Find out more >