We sat down with our new ambassadors Mr and Mrs Romance, Jim and Christina Butcher.  An award winning lifestyle and travel website these two romantics love to getaway, visit unique places, try new adventures and highlight food and wine. Articles across their travel and lifestyle stories with stunning photography and videography, they have a loyal following and have worked with brands such as Olympus, Virgin Australia, United, National Geographic, Tourism & Events Queensland, Destination NSW, HunterValley Wine Country, QT Hotels, Lavazza Coffee and KitchenAid.
Tell us a little bit about how you started and created your amazing travel website?  
We started Mr and Mrs Romance in 2012 in the relatively early days of blogging on the back of Christina's incredible success with Hair Romance, a hair and beauty site. We were looking for a way for us to work together and to share one of our true passions: travel. 
Travel brought us together, from when we met on the opening ceremony night of the Sydney Olympics to living in the UK to seeing the world together.
We play to each other's strengths – Christina's a professional photographer, so she's in charge of the incredible visuals of our site, and I have a background in teaching English and as a freelance journalist, so I 'do the words'.
What is your favourite part of travelling?  
Aside from enjoying all the amazing food and drink that travelling the world brings, it's exposed us to just how beautiful the planet can be; from nature to culture.
We've searched Borneo jungles for wild orangutans, met San tribespeople of the Kalahari, climbed glacial waterfalls in the mountains of Iceland and sat down with elders of Aṉangu, the traditional landowners of the Uluru region.
Travel continues to open our minds, feed our souls and show us the incredible wealth of life to live.
It also allows us to be nosy on a global scale!
Any tips on making a road trip smooth sailing?  
The same way we play to our strengths with the content we create, we stay in our lanes when it comes to road trips. I have a terrible sense of direction (especially in the Southern Hemisphere!) and Christina is a homing pigeon in human form. 
Conversely, I love driving and Christina prefers the passenger seat, so I'm behind the wheel and she's in front of the map.
Snacks are also essential! My favourite is when Christina packs crackers and slices of cheese for us. What can I say – I'm bougie.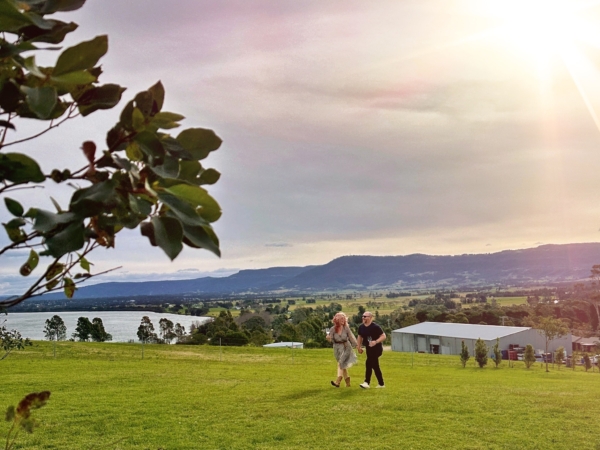 We love having you as ambassadors of ours, what would be your favourite part of the role?
Ambassadors! Pass the Ferrero Rocher!
We love working with travel providers – from national tourism boards to small local artisans – but having an ongoing relationship and being able to dig deeper into a region as ambassadors means we're able to have a richer knowledge to share of a location. 
This ambassadorship means a lot to us and gives us so much pride in being able to represent a destination we've always enjoyed visiting. 
Where is a south coast spot you are yet to explore?  
We've been lucky enough to dip our toes in a lot of the South Coast over the years, but there's always so much more to explore. One place we haven't been to in a long time and would love to get to know more is the area around Kangaroo Valley.
We'd also love to visit more of the areas around Batemans Bay and also areas north of the beautiful Sapphire Coast.
And finally, when you think of the South Coast what first comes to mind when visiting our wonderful region?
Of course, the South Coast always conjures images of pristine beaches and diamond-clear sparkling waters, but there's so much more to the beautiful region. 
Away from the coast is a stunning hinterland full of rolling hills and escarpments, little villages and craft producers to explore. And as for the food and drink offerings, the quality in the South Coast is unbelievable. Wineries, breweries, cheese-mongers and gelaterias, bakers – and that's before you even touch on the cafes, bars and restaurants.
Read the trip we created HERE and copy and paste it into your next getaway!