The vibrant village of Berry is set among the working dairy farms and green hills of the NSW countryside. It's a place to cycle, hike, kayak, swim and eat – with a burgeoning food scene that rivals most towns along the South Coast.
From sourdough bread to artisanal wines, you'll find producers creating all kinds of local treats in the area, as well as a range of foodie festivals, cooking classes and vineyard tours that will have you coming back year on year.
Read on for the best things to in Berry with our SCx guide…
Things to do
The best activities in Berry NSW
1. Visit Berry's farmer's markets
Every Thursday, from 3pm until 6pm, you can enjoy the Berry Farmer's Market at the Cow Shed at Berry Showground. Local producers flock to sell their goods, with live music playing in the background and games on the lawn for kids. There's also a Produce Market at Andrew Place Park, held 8am to 2pm on every second and fourth Sunday of the month. Browse the impressive range of local goodies, from handmade soaps and jams to sourdough breads, honeys, eggs and more.  If you cant make these days dont despair… pop into Flavours retail shop that has local produce to stock your pantry!
2. Explore the boutique shops
Berry is full of the kind of shops that make you want to spend money, even when you've told yourself you shouldn't. Beautiful boutiques dot the bunting-laden high street, selling everything from hand-made soaps to local wooden cutlery. Great shops to look out for include Wax Lyrical – an independent bookshop where you could spend hours browsing the many novels – and Long Weekend Store, a slow fashion boutique, with ethical Australian brands and curated consignments. Amara Home, Few and Far Home and Moss Nest all offer wonderful lifestyle collections.
3. Go cycling
Berry is considered one of the best destinations in NSW for cycling. The gentle countryside is perfect for leisurely rides, where you can stop in at the many wineries and cafés that dot the winding roads and hillsides. If you're looking for more of a challenge, there are plenty of tough slopes that offer rewarding views of the landscapes. A popular ride for more experienced cyclists is The Road Block route – a 38km road ride with around 900m of ascent and a lot of fun downhills.
4. Try a local cooking class
Berry is a town for artisans, where creativity thrives in everything from the freshly-made loaves of bread to the locally-produced wines. Roll up your sleeves and get stuck in at Far Meadow Table – a cooking school, restaurant and farm shop hidden within a beautiful brick farm among Berry's green fields. They hold baking workshops and vegan cooking classes regularly, where the lovely hosts share their passion for New South Wales in every recipe they teach. If you're aren't in the mood for cooking though, you can enjoy one of their special dinners instead, tucking into their seasonal set menus that offer a true taste of the South Coast. These are currently closed atm sadly.
5. Head to the hills
Hiking in Berry is one of the best ways to experience the countryside – a slow meander past working farms, vineyards and shaded forest. A popular walk, starting from the car park just off Brogers Creek Road, takes you up to the dramatic natural rock formations of Drawing Room Rocks, overlooking the town of Berry. It's about 4.5km in total, with a few steep inclines and a lot of pretty views. You could also drive 10 minutes towards the coast to reach Seven Mile Beach National Park. From here, you can hike about 3km north up the beach to the town of Gerroa, or 3km south down the beach to Shoalhaven Heads.
6. Feel well
Berry is all about the country living – fresh air, healthy food, happy people. Cement this feeling further with yoga classes intended to 'nourish the soul'. The Berry Yoga Shala from Roaming Yogis is a little studio in Berry that offers weekly classes in Vinyasa Flow and Yin, Prenatal – with walk-ins and new visitors more than welcome. They also run yoga retreats in Berry, with multi-day instruction to really help you feel well.
Where to stay
The best accommodation in Berry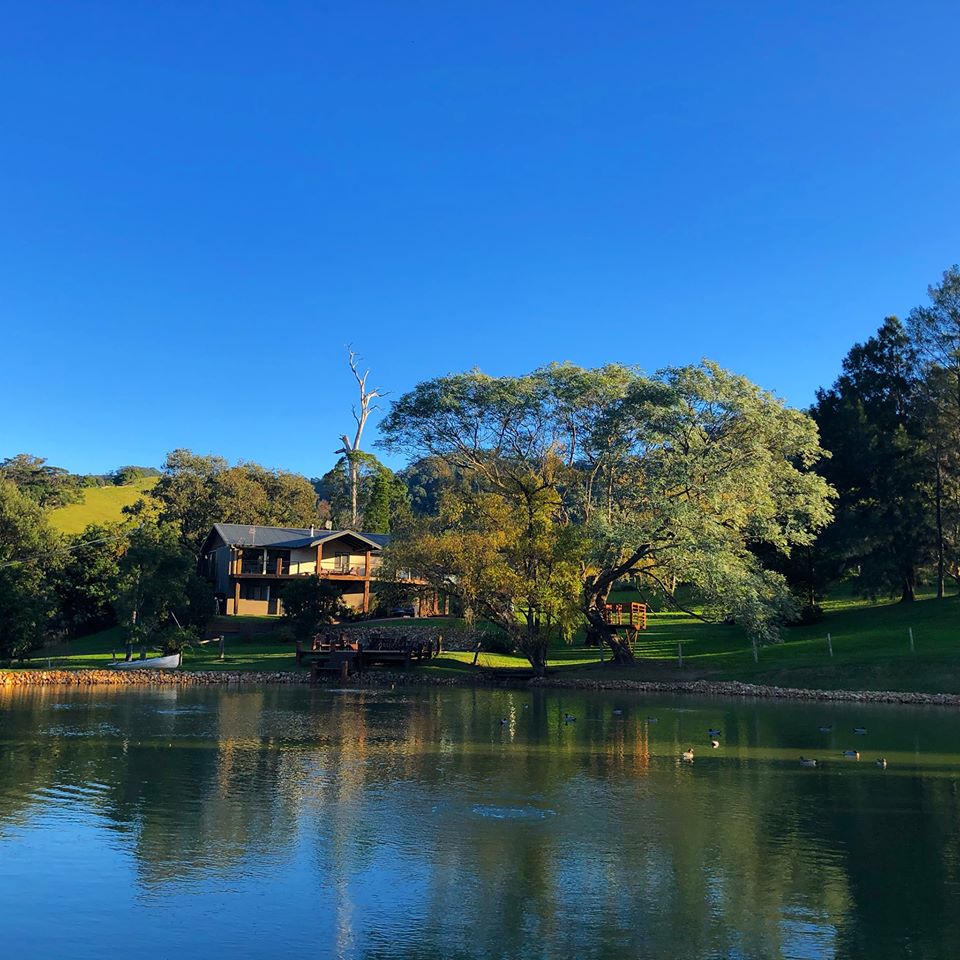 1. The  Berry Lake House 
A place to connect with nature. Berry's only luxury lakeside estate. My stunning grounds, beautiful views and picturesque landscape provoke relaxation and imagination as you enter through my Australian hardwood gates and journey up my winding driveway. Read more >
2. Willow Farm
Though just four minutes outside of Berry, Willow Farm feels a world away from it all. This 1920s stone farmhouse – featuring four bedrooms for up to 10 people – retains its country heritage, with a sprawling apple orchard, friendly cows, a creek where you can fish, and a beautiful verandah from which to watch the sunset turn the paddocks gold. Inside, the owners' elegant touches, like Italian tiles, antique French doors, a well-stocked library and a big four-poster Javanese bed, help Willow Farm feel like a home away from home. Read more > 
3. Sinclairs of Berry
Sinclairs of Berry is a luxury farmhouse located in the South Coast village of historic Berry. Our secluded two-storey farmhouse and luxury cottage are set on charming 2 acre farm right in the very heart of Berry. Our farmhouse has 8 boutique bedrooms, 9 bathrooms and accommodates 18 adults in pure comfort and style.  Read more >
Where to eat
The best restaurants in Berry
1. The Berry Tea Shop
A trip to Berry wouldn't be complete without a good old-fashioned afternoon tea. In this bright and airy café, tea and cake is served daily from 10am to 4pm. Grab a freshly-baked scone or a huge hunk of cake and wash it down with one of their many loose-leaf teas. The café is a cheerful place to spend a few hours, with walls covered in colourful pictures and a charming collection of teapots, mugs and saucers to admire. Read more >
2. The Berry Donut Van
This van is a local institution in Berry. It's been going for over 50 years, having first travelled around Australia before settling on Berry as its home.  Their cinnamon donuts are legendary, paired well with a hot cup of coffee. You can find it on Queen Street, open every day from 9am to 6pm.
3. The Garden Berry
The Garden is a social dining venue set in the heart of Berry and is the meeting place for locals and visitors alike. Visit them for breakfast, lunch, dinner, coffee and cakes or just relaxed afternoon grazing and cocktails. Read more >
4. SOUTH on albany
Tucked away in a side street of Berry, this small restaurant is passionate about sharing their love of this region with locals and visitors alike. With a weekly changing set menu, this is a dining experience that showcases the region beautifully. Read more >
Don't miss
The best events in Berry
The Berry Country Fair
On the first Sunday of every month (except in February) around 200 stalls garther at Berry Showground to showcase their artisanal wares. You can pick up everything from hand-made leather wallets and home-grown veggies to locally-bound books and artwork from NSW residents. The fair runs from 8.30am until 2.30pm and is free to enter.
How to get there
The best way to reach Berry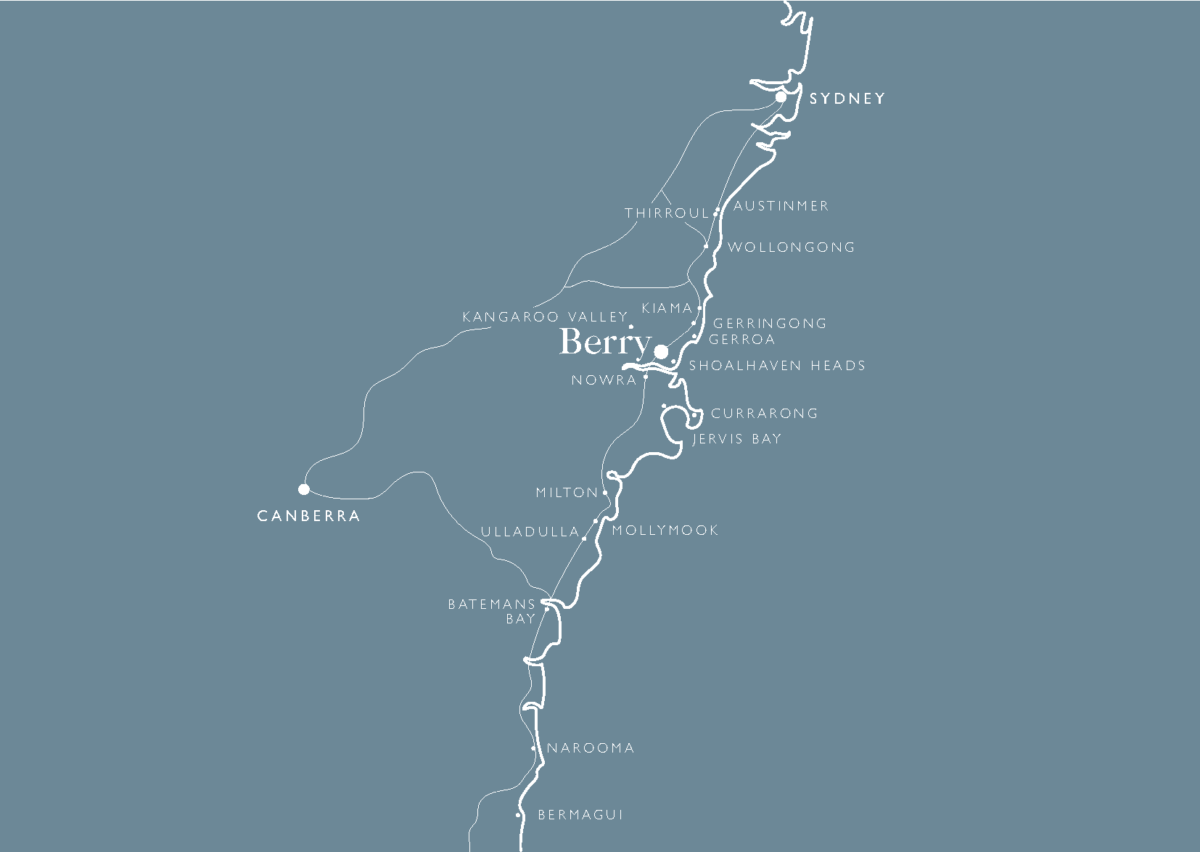 Berry is an easy drive from either Sydney (2 hours away) or Canberra (2.5 hours away). You could also take a scenic train from Sydney on the South Coast Line, taking around four hours with a change at Kiama.
---