Trip Planning
The ultimate guide to Gerringong, NSW
South Coast Experiences

30 April 2020
The rural coastal town of Gerringong is known for its endless golden sands and verdant green hinterlands. The pace is slower here; a chance to catch your breath and just relax – whether in the rolling surf, on the undulating green cliffs or at a quiet brunch spot in town. Read on for the SCx guide to Gerringong, NSW…
Go swimming
You'd expect nothing less from a beach town like Gerringong, but swimming here is a real local's pastime. Werri Beach, just north of town, is a popular spot for a dip, with lifeguards around in the warmer months. There are also a number of ocean pools, including Ourie Pool and Boat Harbour Rock Pool, where you can splash around in the sheltered water.
Cycle the coastal trails
Gerringong's fresh ocean air will pump you full of energy. Use it for a cycle ride along the many bike paths in town: the 7km route to Gerroa, in the south, is a leisurely option through the countryside. This Kiama Cycleway map  has some other great routes. You can hire bikes from South Coast Bike Hire  in Gerringong.
Have a scenic picnic
There are plenty of lookout spots around Gerringong that make for a beautiful picnic setting. The grassy park surrounding the Gerringong Whale Watching Platform is one of them, overlooking Werri Beach to the north and Seven-Mile Beach to the south. Haven Island Oysters create beautiful hampers full of oysters and bubbles if you're looking for a picnic that's a little more up-market.
Explore the town's historic buildings
Gerringong is rich in history. There are 14 places of historic interest in the town, including the 19th-century Gerringong Uniting Church with its magical stained-glass windows, and the historic Boat Harbour Store, which opened in 1856. You can pick up a map of the heritage buildings at Kiama Visitor Centre for more details about each building.
Discover the South Coast's creativity
Gerringong is an area of New South Wales that lives and breaths creativity. In town, explore the light-filled Fern Street Gallery, where work from local artists is displayed on the white-washed walls. You can also get hands on with a number of Gerringong workshops – including a luxury candle-making class at Willowvale Road, which takes place in a light-filled barn in the countryside, and a clay workshop with Barefootfivetribe Collective.
Where to stay
The best accommodation in Gerringong
Soul of Gerringong
This beautiful accommodation blurs the lines between boutique hotel and luxury holiday home. There are two options to choose from: for bigger groups, Soul Farmhouse – an open-plan cabana-barn with seven bedrooms – can sleep up to 16 people; or Soul Cottage, a chic modern home with a cozy fireplace and outdoor BBQ pit, can sleep up to seven. Read more>
Ocean Farm
This standalone home has unparalleled view of the ocean from its clifftop perch. It's completely isolated, situated on one of the last working farms on Gerringong's coastline. With four bedrooms, an ocean-facing infinity pool and spectacular outside terrace, it's hard to beat Ocean Farm's simple luxury. The only difficulty? You may not want to leave. Read more>
Jerrymara Estate
This country estate is made up of three main bedrooms and two modern cottage bedrooms, accommodating up to 11 guests. The accommodation is set within manicured grounds, complete with a 12m saltwater pool and a tennis court. The house is positioned within Gerringong's verdant countryside, with acres of rural green land to explore on foot. Read more>
Saltash
This luxurious six-room holiday home lies just footsteps from Werri Beach, with views of the headlands and alluring waves. There's a pool and secluded outdoor area, with a BBQ set up for lazy evenings under the NSW sun. Inside, white-washed rooms, leafy green plants and wooden furnishings reflect the laid-back oceanside setting.
Dunoon Farm House
This historic farmhouse is set on one of the oldest land holdings in Gerringong. It has been carefully restored by the owners to reflect the history and scenery of its countryside location. The original cottage was built over 150 years ago: today, it's a three-bedroom boutique guesthouse full of bright airy spaces, surrounded by rolling emerald paddocks. Read more>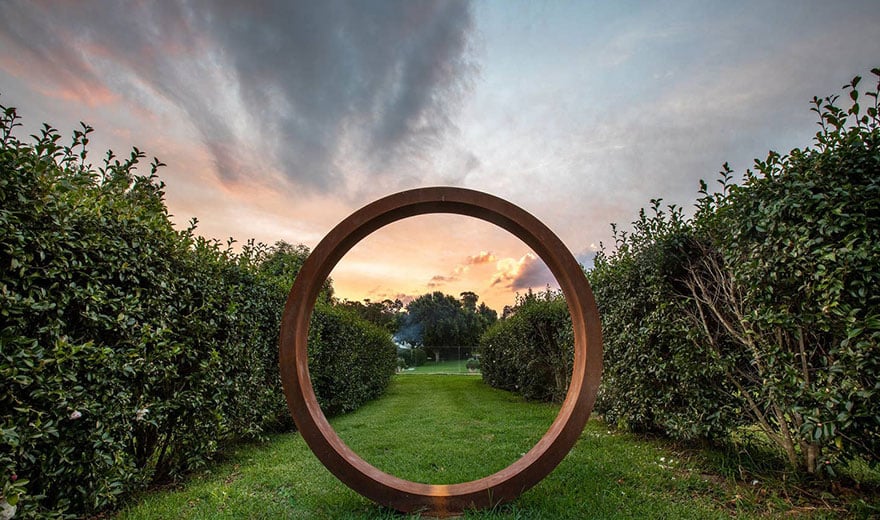 Where to eat
The best restaurants in Gerringong
The Hill Bar and Kitchen
This chic restaurant overlooks the surf waves of Werri Beach. With an outside terrace and white, wooden interiors, the aesthetic reflects the rugged coastal surroundings. Grab a cold beer or glass of wine – their drink menu is extensive – or enjoy their modern Australian menu made up of sustainable, locally-sourced ingredients. Read more >
Stoic Brewing
Stoic Brewing is a family-owned and operated brewery, led by their vision to create a space where the community can come together and enjoy locally-brewed beer and cider in amongst the vats. Their beer and cider is brewed on-site, alongside their own wine. Stop in to try their interesting creations, including peanut butter stout and ginger cider. Read more >
---
Werri Beach Fish Shop
If you're looking for that classic seaside treat, Werri Beach Fish Shop has the answer. They're open every day until 7pm, cooking up traditional battered fish and chips overlooking the beach. The family-run business has been running for 43 years and is a bit of a local institution in Gerringong.
Don't miss
The best events in Gerringong
JANUARY
Captain Christie ocean swim
The Captain Christie ocean swim is held on the first Sunday of the new year, every year, just off Werri Beach. It's considered the oldest ocean swim of its kind, dating back to 1882; inspired by the so-called Captain Christie who docked at Gerringong Boat Harbour and challenged his team to swim around the rocky headland for a bottle of the finest whisky. He won the bet.
Today, the 1.8km route might be short, but it's fraught with obstacles, including strong currents, breaking swells and the dastardly north easterly wind chop. Whether participating or just watching, it's an event that draws crowds from far and wide.
MAY
SurfLife
This carefree weekend festival has taken place every May for the past five years. It's a celebration of Gerringong's music, surf, food and fun, with over 12 hours of festivities. Expect live bands, stories from surf legends like Tom Carroll, great food, wine, and plenty of locally-inspired fun. The annual Werri Slash surf competition is also held the same weekend.
JUNE
Winter Wine Festival
This annual festival from Crooked River Wines is a chance to celebrate all that's great about Gerringong: sustainable produce, home-grown wines, craft beer, BBQs and delicious local food. The festival has been going for 17 years on the Crooked River Wines picturesque vineyard estate.
OCTOBER
Twilight markets
The community twilight markets of Gerringong occur every October right in the heart of town. Local producers set up their stalls to provide quality Australian produce, from homemade pies to freshly-baked cakes. There are also plenty of interesting market stalls where you can buy second-hand goods, books, plants, crafts and more.
Location
The best way to get to Gerringong.
Gerringong is just under a two-hours drive from Sydney along the scenic Grand Pacific Drive. You can also take the 2.5-hour coastal train journey from Sydney's Central Station, which winds beside the ocean. From nearby Kiama, it's just a short 10-minute drive, and from Wollogong, it's about 35 minutes.