The historic town of Milton and it's beachside neighbour Mollymook are too often passed by on the Princes Highway. Just three hours drive from Sydney – but a lightyear away from the bustle of the city – you'll find a community bonded by the tide, the slow pace of life and a love of all things South Coast. Beaches are less crowded than those a little further north, with great spots for swimming, surfing and fishing. Come for the award-winning restaurants; stay for the bush walks and ocean air.
Read on for the SCx guide to the best things to do, places to stay, events and restaurants in Mollymook and Milton…
What to do
The best things to do in Mollymook & Milton
1. Enjoy the countryside
One of the main draws to this area of the South Coast is the mix of scenery; from blue sparkling waters to rugged bushland, wind-swept beaches to bountiful orchards. Put yourself at the heart of the action with Big Nature Adventures, who specialise in bespoke outdoor experiences, including climbing, abseiling and guided multi-day hikes. One of their best routes takes you from Milton to Pigeon House Mountain for a four-hour, moderate hike, unveiling spectacular views of the South Coast from the peak. You can also set off early to time the hike with sunrise, watching the sky turn from black to pink to blue.
2. Head to the beach
There's plenty of beautiful beaches to while away an afternoon. Jump in the car and head south – exploring the inlets and shores that most tourists will never see, including Pebbly Beach (home to a local population of kangaroos) and the golden Merry Beach, just past Kioma. For something a little easier (and closer to town), Mollymook and Narrawallee Beaches are both great for surfing, while swimming in the tidal rock pool at Bogey Hole is a safe option for families. For surf lessons or wetsuit and board hire, check out Mollymook Beach Surf School. Group lessons start from $50 per person, while boards are $20 for two hours or $50 for the day.
3. Heal yourself
Although you're a few hours from Sydney, spending time in the rolling countryside of New South Wales does wonders for the soul. For the full 'wellness' experience, grab some time with Tracey Gunn, who runs healing food workshops and yoga classes. Tracey is also the founder of Delicious Vibrant Beauty, a natural organic skincare company that makes products perfect for refreshing the skin after a little too long on the beach. You could also visit Smiling on the Inside in the village green for a range of therapeutic treatments, including organic spa facials and massages.
4. Play golf
Mollymook has two golf courses – the nine-hole Beachside Course and the Beachside Course , considered one of the most scenic courses on the South Coast. An 18-hole visitor pass starts from $25, with clubs and carts available for hire too.
5. Wander around town
Take time to explore historic Milton for a day away from the beach, full of interesting 19th-century heritage buildings that are worth looking around. If you're interested in art, check out Milton Art Gallery, Van Rensburg Galleries at Milton and Milton Timber Gallery, as well as Turnbull Bros Antiques for some bargain antiques.
For more shopping, time your visit with Milton Village Showground Markets – a produce and craft market held on the first Saturday of each month. To finish your day in town, catch a show at Milton Theatre – a beautifully refurbished historic theatre – or join a Ghost Walk to experience some of the town's spooky past: Walks leave from Milton Cultural Centre at either 7pm or 8pm (depending on the time of the year) and cost $25 per person.
6. Try a local tipple
The foodie scene is strong in Milton – but the drinks scene is catching up quickly. Start your morning with a tasting at local estate Cupitt's Winery, offering one of the best cellar doors in the Shoalhaven region. The wine is delicious, only matched by their hearty cheese boards which feature cheese made onsite. After lunch, head to the newly-refurbished Milton Hotel, a great place for a cold afternoon beer sat on the outside deck. Check out the seasonal beers from their microbrewery before tucking into some locally cured meats on their charcuterie platter.
In the evening, head to the local pub The Star Hotel Milton where you can have a drink listening to some live local music (visit their website for an up-to-date schedule). Or for something a little stronger, try the cocktails at Harvest Bar Milton; drinking a Dark & Stormy overlooking the dark (and sometimes stormy) countryside of the South Coast is a great way to end a day in Milton.
Where to stay
The best accommodation in Mollymook & Milton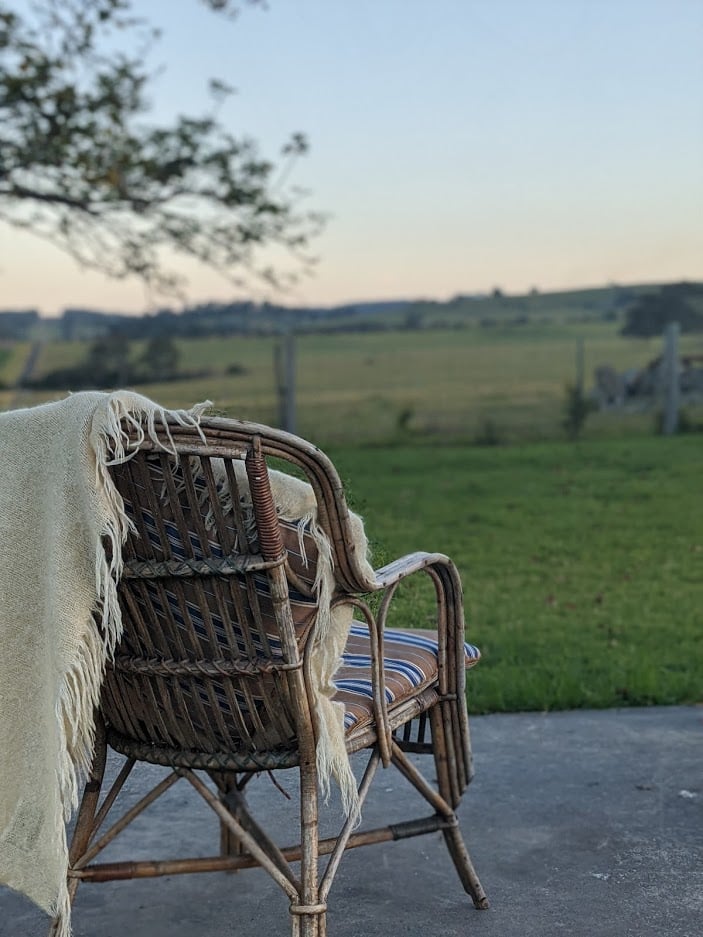 1. The Old Schoolhouse Milton
This unique property sits on acres of orchard and gardens, just a few kilometres outside of Milton.  Offering self-contained accommodation for couples and solo travellers, rooms are based in the converted stables or the schoolhouse's loft. There's fresh produce from the orchard and eggs from their brood of hens, which makes breakfast looking out over the gardens a highlight of the stay. Read more >
2. Bannisters By The Sea
The first of the now-growing Banisters brand of hotels is perched on Bannisters Point, with suitably impressive ocean views. Among the 34 rooms are luxury suites with spa baths and balconies overlooking the beach, as well as penthouse suites designed by Collette Dinnigan, which are decorated with Australian photography and French trinkets. Renowned restaurant Rick Stein at Bannisters (see below) is also on-site.
3. Bannisters Pavilion
Sister property to Bannister By The Sea – and just down the road – this chic hotel, with a pool overhanging the entrance, is definitely the cooler younger sibling. The hotel has around 30 rooms and a couple of penthouse suites, with a  Rooftop Bar and Grill that plays live music every Sunday. You can also enjoy a free transfer up to Bannisters By The Sea if you want to use the larger hotel's facilities.
4. The Milton Bungalow
For a boutique stay in the heart of Milton, The Milton Bungalow is the perfect getaway for couples and families, sleeping up to six people comfortably. Showcasing Milton's artisan spirit, you'll find a beautifully decorated space with all the mod-cons and luxury touches you'd expect from the South Coast. The complimentary hamper filled with local goodies is a welcome treat.
Where to eat
The best restaurants in Mollymook & Milton
1. Rick Stein at Bannisters, Mollymook
The seafood master's first restaurant outside of the UK put Mollymook on the map. It's hard to resist the appeal of eating fresh seafood overlooking the same waters it came from. Everything from the signature fish pie to the Singapore chilli blue swimmer crab is delicious, making this one of the South Coast's best destination restaurants.
2. Tallwood Eatery, Mollymook
Just across from Mollymook beach and down the road from Bannisters Pavillion, Tallwood Eatery offers an innovative menu in an unassuming location. The breakfast collection includes dishes like Indian-spiced pancakes and veggie ramen, while dinner showcases glazed lamb with kohlrabi and kombu oil, and a caramel miso semifreddo for dessert. Menus change regularly, but it's well worth searching out the chef's tasting menu if available. More than just being a restaurant, the Tallwood team have become a community hub –  hosting a rotating art gallery, supporting local producers and collecting compost and coffee grounds for local gardens.
3. Pilgrim's Cafe, Milton
This South Coast veggie chain has four restaurants in the area, focusing on classic café fare in the day – pancakes for breakfast and burgers, pies and toasties for lunch; all washed down with cold juices and shakes. On Friday and Saturday evenings, they switch to a Mexican menu. Frozen daiquiris with nachos and tacos is a great way to get the weekend started.
4. Flour Water Salt, Milton
This café-bakery is loved by locals and tourists alike for its sourdough bread, housemade jams and great coffee. Part of a small South Coast-based chain, the breakfasts are a great way to start a day mooching about Milton. The real stars of the show though are the takeaway baked goods: sausage rolls, pies, pastries, sourdough sandwiches and more. Head there to stock up before a day at the beach or a trek in the bush.
5. Italian Guild, Milton
This local's favourite grew from a mobile wood-fired pizza cafe, and the same draw remains. The pizza is great, with a charred and chewy crust, and service is smart and friendly. There's a full Italian menu, including pasta and the ubiquitous tiramisu, plus a selection of great value Italian wines by the bottle. The Guild's own coffee blend, roasted locally, might be worth the trip alone.
6. Milk Haus, Milton
Located in a converted cheese factory just outside Milton, this wholefoods cafe specialises in honest, simple food using local produce (much of it grown in the cafe's gardens). While the key message here may be simplicity, the menu is exciting and showcases some of the South Coast's best suppliers, making it a great spot for breakfast and lunch. Read more > 
7. Small Town, Milton
Small Town is a paired-back, neighbourhood bistro from the owners of the much-heralded (and sadly missed, if you ask many of Milton's inhabitants) St Isidore – a coastal restaurant that closed in 2019. The owners wanted to switch their focus to delicious wine and simple food, although their menu is no less adventurous: you'll find dishes like grilled octopus, nduja and lemon, and roast half chook, eggplant, bois boudran and flat bread. There' also a fantastic list of aperitifs to start the meal, and a great wine list.
Don't miss
The best events in Mollymook & Milton
YEAR-ROUND
Markets
There are regular markets in both Milton and Mollymook. On the fifth Sunday of certain months (around four to five times a year), the Mollymook Lions run the Mollymook Beach Market, featuring a variety of bric-a-brac, clothing, toys, arts and crafts and food stalls.
You'll also find the Milton Village Showground Markets on the first Saturday of each month, which has the stunning Budawang Ranges as a backdrop. It features some of the area's finest local produce, vintage fashion stalls, ceramics, pottery and florists, alongside jumping castles and pony rides for the kids. Free parking is available on-site.
FEBRUARY
Australian Surf Rowers League Open
This three-day event pits the nations finest surf life savers against each in other in surf boat races. There's a Trans-Tasman challenge between representatives from New Zealand and Australia, an Interstate championship and numerous categories fighting it out to be crowned champions. It's free for spectators to watch, and with over 3000 attendees and 350 clubs competing, the atmosphere promises to be electric.
APRIL/MAY
Mollymook Ocean Swim
 If you're a competitive swimmer, or at least someone who thinks they could be, jump in with the 200 or so other competitors at Mollymook Ocean Swim, organised by Mollymook SLSC. The course is around 2.2km and there are usually great prizes up for grabs from the swim's sponsors. Make sure to register and pay entrance fees beforehand at oceanswims.com.
JUNE
StoryFest
StoryFest is billed as a celebration of storytelling in all its forms, including poetry, prose and song. You'll hear from established leaders in the worlds of writing, illustration, comedy, songwriting and film-making (previous guests have included Jane Caro, Candice Fox and Leigh Hobbs). There are interviews, panels, presentations and workshops – for adults and for families. Events are held in Milton, Mollybrook and nearby Ulladulla, so keep an eye out for participating venues.
Shoalhaven Coast Winter Wine Festival
For a celebration of the abundance of brilliant vineyards and estates in the Shoalhaven region, join the three-day wine and fine food festival. Across the cellar doors you'll find tastings, tours, live music, long lunches and more. There's a hop-on-hop-off bus available to shuttle between wineries, and payment at the first cellar door gets access to tastings at the others. For an introduction to the excellent wine scene in the region, not much will top this festival.
OCTOBER
Escape ARTfest
This festival, which began in 1995, pays homage to the artistic spirit in the Milton Ulladulla district, with exhibitions and performances from artists and musicians across the four days. There are major shows from local artists, large-scale street art collaborations, open studios and the Escape ARTfest prize. With a focus on the grass-roots art movement and community engagement, you'll see a big focus on emerging artists across the festival.
How to get there
The best way to reach Mollymook & Milton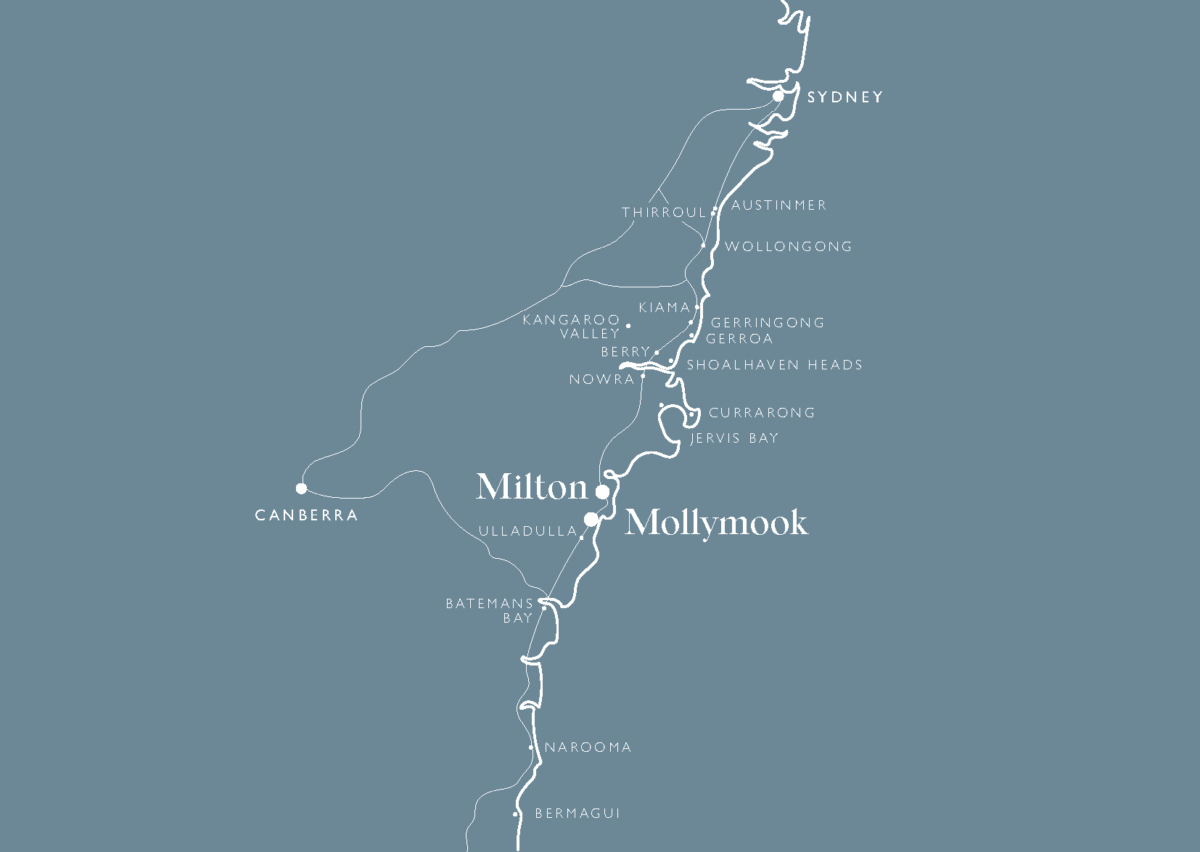 Mollymook is a little over three hours from Sydney by car; plan to stop for lunch in one of the towns along the Grand Pacific Drive if you're setting off in the morning. It'll take around two and a half hours to drive from Canberra – you'll come north up the Grand Pacific Drive at Batemans Bay. Milton is less than ten minutes from Mollymook Beach by car.
It really is worth hiring a car to come to this part of the South Coast, as public transport options aren't especially practical. If that isn't an option, you can take a train from Sydney Central to Kiama Station and from there head towards Mollymook by bus (you'll have to change at Bomaderry). The whole journey can take around six hours. For timetables and routes, take a look at transportnsw.info.
---