This might be one of the most beautiful valleys in Australia, known to be one of only seven true valleys in the world. Rich green pastures, lush rainforest, twinkling rivers and very few crowds make Kangaroo Valley among the South Coast's true hidden gems. Stroll the old streets, dating back to 1870; kayak on the quiet rivers; or explore one of the local farms, where produce is always fresh and delicious.
Read on for the SCx guide to Kangaroo Valley, NSW…
Things to do
The best activities in Kangaroo Valley NSW
1. Go hiking
Hiking is a rite of passage in Kangaroo Valley. A popular route is the McPhails Trail – an 11km round-trip hike that winds you through Morton National Park, among the enormous cedar trees that attracted the timber loggers back in the 1800s. Another good trail is Cook's Nose, a well-marked route through Barren Grounds Nature Reserve. The 8km trail is steep in places, but worth it for the dramatic views over the valley.
Hiking not for you? Go horseriding instead. 
2. Go kayaking
The Kangaroo River flows right through the valley, surrounded by abundant rainforest and plenty of wildlife – wombats, jumping fish, platypus and (of course) kangaroos. There are several kayaking companies that offer half- and full-day tours of the area, gliding through the smooth waterways with a professional guide. With Kangaroo Valley Adventure Co. you can kayak, canoe or even bush walk through the rich ecosystem.
3. Visit the Farmer's Market
Local produce is part of the way of life in Kangaroo Valley. Taste the best for yourself at the local farmer's market, held on the second Saturday of every month, from 8am to 1pm on Moss Vale road. You can expect everything from local honey and hand-made pickles to freshly-baked cakes, pastries and pies – each sold from tented market stalls. There's also free live performances from local musicians to enjoy.
Where to stay
The best accommodation in Kangaroo Valley
1. Amaroo Valley Springs
This accommodation is a destination in itself: 160 acres of farmland and rainforest, home to platypus, kangaroos, wallabies, parrots, eagles, wombats and some of the South Coast's oldest trees. Amaroo Valley Springs is a working beef cattle farm at the heart of this wilderness, with two luxury cabins that sleep up to four people each. The cabins afford dramatic views over the surrounding landscapes, kitted out with fireplaces, BBQs, board games and a selection of farm-fresh produce to snack on. Read more >
2. Equanimity
Enjoy Equanimity, the ultimate escape. This luxurious 3-bedroom, 2-bathroom home is positioned amongst the trees, above the river,  just a short stroll from the picturesque village. Calming views of the surrounding valley from the spacious deck, ornamental gardens and the sounds of nature will be yours to enjoy. Read more >
3. Barranca
The villas at Barranca are marvels of modern architecture. There are four to choose from – two that sleep up to eight people and two that sleep up to four; each with floor-to-ceiling windows set within Barranaca's undisturbed bush and farmland. Hike among the surrounding woodland, swim in the nearby creek or spot wildlife like kangaroos and kookaburras hiding in the trees. You can also enjoy luxury spa experiences on your villa's own deck. Read more>
Where to eat
The best restaurants in Kangaroo Valley
This deli, restaurant and cooking school champions Kangaroo Valley's local produce. At their deli, they ferment, brine, pickle and bake all kinds of fresh dishes for you to takeaway, from smorgasbords to fresh sourdough loaves. By day, the restaurant hosts two-hour cooking classes, offering skill-based favourites like bread-making or charcuterie workshops. By night, it transforms into a dining destination, where you can enjoy chef dinners, degustation courses and wine pairings.
This local institution proudly claims to have 'the world's best pies' – a fact you can't miss from the numerous signs adorning the walls. This might not be an exaggeration: their hearty, flavourful pies have been a hit in Kangaroo Valley for years, with classic fillings like 'beef and Guinness' and 'traditional Aussie'. The café has an old-school, retro feeling, matching the simple home cooking they are known for.
Stop by this little shop for a taste of nostalgia. Their multi-award-winning old-fashioned confectionery is legendary in the area, from their home-made nut brittle to their 'Grandma's' ginger fudge. They also serve delicious ice cream in huge helpings – great for cooling off on a hot day.
Don't miss
The best events in Kangaroo Valley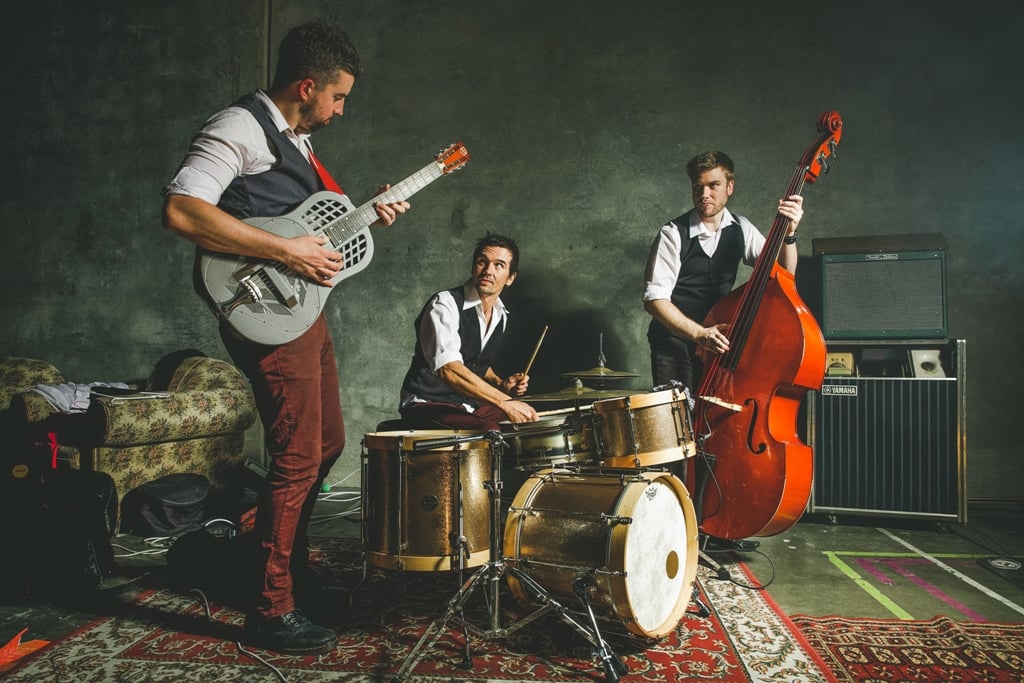 FEBRUARY
Kangaroo Valley Show
This country show has been running for over 135 years. It celebrates the best of life in the valley, with countless competitions measuring everything from the most delicious cheese to the prettiest needlework. Hundreds of producers come together to put their food to the test, with general tastsings for all guests before the judging commences on the second day. If you don't want to compete, there's still plenty to do: stoll around, enjoy the tasty produce, watch the horse and dog shows, take part in a cooking demonstration or get hands-on with one of the many activities, from scarecrow-making to kangaroo cut-out painting.
OCTOBER
Kangaroo Valley Folk Festival
This annual folk festival is a weekend of song and dance. Venues across the valley play host to over 50 different folk acts, from ukulele bands to Irish dance performances. The alcohol flows, the music plays and your feet won't stop tapping from the moment you arrive. Alongside the festivities, there are craft tents, market stalls, street performers and poetry competitions – plenty to keep you entertaining during your time in the valley.
YEAR-ROUND
Arts in the Valley
This local organisation has been bringing some of the best musicians, artists and writers in Australia to Kangaroo Valley for nearly 15 years. If you're in town, make sure you visit their website for the latest events. They host everything from classical concerts and art exhibitions to community sculpture events. Their line up for 2021 looks very exciting, including the Arts in the Valley festival in May.
How to get there
The best way to reach Kangaroo Valley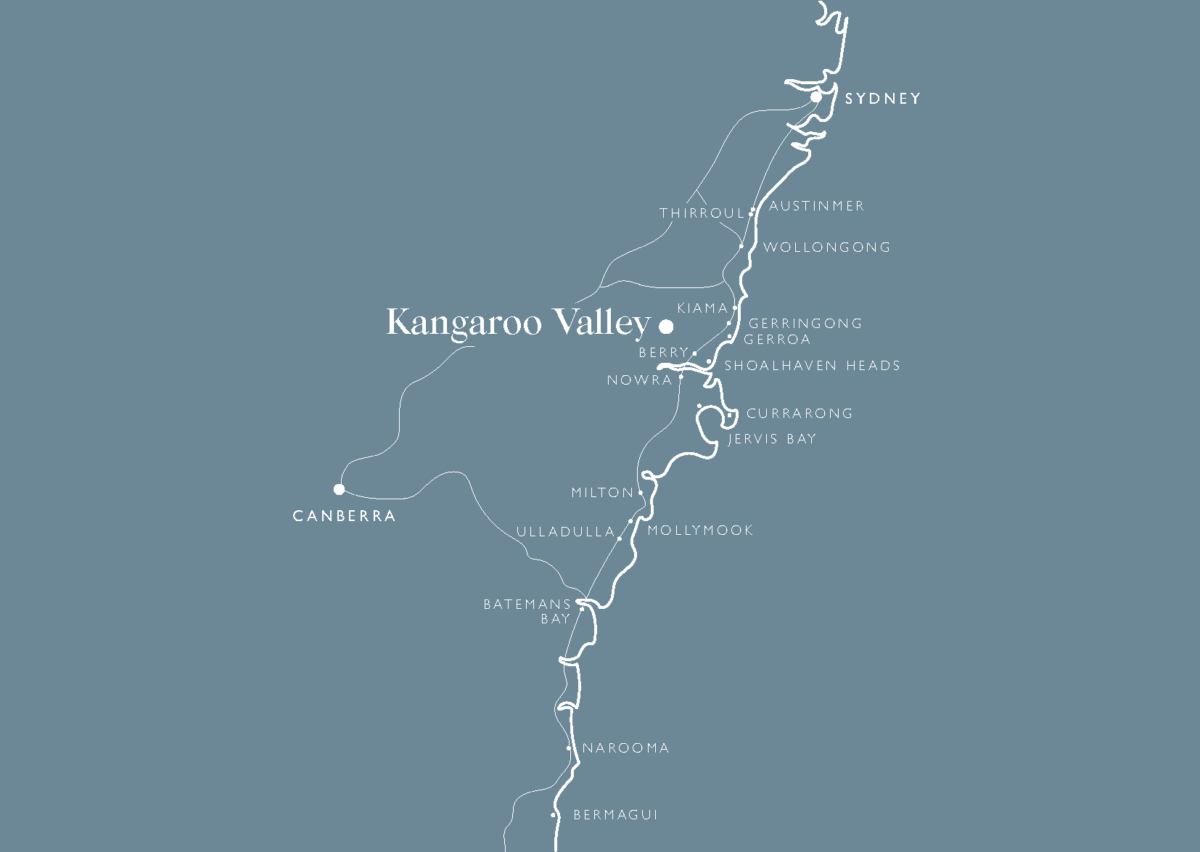 Kangaroo Valley lies roughly half-way between Sydney and Canberra, around two hours from each city. Driving is the best way to get there, taking the Hume Highway from Sydney, or Federal Highway from Canberra. It's possible to visit by public transport from Sydney though; catching the southern NSW train to Moss Vale Station, then taking the 810 bus toward Nowra, stopping in the valley.
---