From the coastal town of Huskisson, you can discover the natural beauty of Jervis Bay – known for having some of the world's whitest sands. The near-translucent waters house an abundance of marine life, including bottlenose dolphins, fur seas, penguins and weedy sea dragons. At night, the sea literally sparkles: a result of the bioluminescent light show performed by the algae that live in the waters. 
Things to do
The best activities in Huskisson and Jervis Bay
1. Get on (or beneath) the water
Jervis Bay is an area rich in marine life, including bottlenose dolphins, fur seals and penguins. Join one of the many boat tours leaving Huskisson for dolphin and whale watching, or grab a kayak and explore the bay with Jervis Bay Kayak & Paddlesports. If you fancy a closer look at the marine life, the team at Woebegone Freedive arrange everything from snorkeling tours to three-day PADI Freediving courses. For a relaxing day bobbing along the calm waters instead, charter your own exclusive yacht with Jervis Bay Sailing Charters.
2. Express yourself 
There must be something in the blue waters in Huskisson, as the area teems with creativity – get creative yourself with the abundant workshops in the area. Learn how to weave your own basket with Lissa de Sailles from the internationally renowned Australian Basketry School. Or make your own bouquets with a floristry workshop from Clare at Gypsy Carmen. 
3. Learn about maritime history
Drop by Jervis Bay Maritime Museum to learn more about Huskisson's interesting maritime history. You can see artefacts like the Lady Denman timber ferry, which carried passengers on Sydney Harbour for 67 years, amongst other exhibits. Check the museum's website for ongoing exhibitions. After that, drive up to heritage-listed Cape St George Lighthouse on the edge of Booderee National Park for dramatic views of the ocean and countryside. The lighthouse was demolished in the 20th Century but saw its fair share of wrecks during service.
Where to stay
The best accommodation in Huskisson and Jervis Bay
1. Worrowing
This historic 250-acre coastal farm offers self-contained accommodation just minutes from the white beaches of Jervis Bay. From one bed cottages to four bedroom houses, there are plenty of options for guests to choose from. Names like Worrowing Wilderness Hut and Worrowing Boat Shed highlight the rugged coastline found just minutes away, but guests can expect premium stays in luxurious surroundings. Read more>
2. The Villas of Huskisson
These three brand new beach properties are located in the heart of Huskisson. Minimalist decor and white-washed walls give a luxury summer house vibe, but all mod-cons are provided for a comfortable stay. It's only a stone's throw from the beach, but you may find it hard to leave those comfortable veranda chairs. Read more >
3. Bowen Street B&B
Excellent local knowledge from your two friendly hosts characterise a stay at Bowen Street B&B. Start your day with excellent local produce (including fresh organic eggs), take a quick dip in the immaculate pool and then make the short journey into Huskisson armed with top tips. Rooms are compact and clean.
Where to eat
The best restaurants in Huskisson and Jervis Bay
1. Huskisson Hotel
Locally (and affectionately) known as 'Husky Pub', this Huskisson landmark is the kind of gastropub you want to end up in after long days on the beach. Great pizzas, burgers and salads will cater for everyone, but the seafood menu is where this place shines. Grab a bucket of prawns or a plate of curry mussels and something cold from the bar to watch the sunset over Jervis Bay.
2. Pilgrims Vegetarian Cafe
For delicious veggie meals that even the most carnivorous will love, South Coast chain Pilgrims is the place to go. Classic café fare is served, with a big breakfast menu and burgers, pies and toasties for lunch, all washed down with cold juices and shakes. Don't miss the Mexican nights on Fridays and Saturdays – the frozen daiquiri is delicious.
3. The Quarters Huskisson
This modern Australian restaurant, housed in a 100-year old coastal cottage in the town, has an eclectic menu that nods as much to the Mediterreanean and Asia as it does to its home terrain. Grab an aperitif from the interesting cocktail menu and head out to the covered terrace where you'll find a welcoming and relaxed atmosphere to unwind.
Don't miss
The best events in Huskisson & Jervis Bay
FEBRUARY
Shimano Ultimate Husky Triathlon Festival
Featuring one of South Australia's most famous triathlon courses, this two-day festival has a huge amount to offer sporty families. Besides the main event, there's an action-packed programme that includes ocean swims, fun runs, kids triathlons and much more. 
MAY/JUNE
SeeChange Jervis Bay Arts Festival
This winter festival, spread across ten days, celebrates creativity and culture around Jervis Bay. There's a range of artistic endeavours that are lauded here, including visual arts, music, dance and poetry. Admission to much of the festival is free; check out their website for the full programme or to submit a piece of art to be featured.
OCTOBER 
South Coast Food and Wine Festival
This celebration of South Coast produce will be hosted at Jervis Bay for the first time in 2020. With masterclasses, live music and ticketed dining events, there is plenty for foodies to sink their teeth into across the two days. You'll also find local craft breweries, distilleries, coffee roasters and wineries offering up their wares, so go with an empty stomach.
Sand and Sea Festival
Join the throngs of crowds heading down to the beach for this two-day festival of watersports. Organisers promise 'competition, recreation, clinics and exhibitors' for sports including kite surfing, water polo and stand-up paddleboarding. There are events like sunrise yoga and sand sculpting, and plenty of action for novices and experts alike, so bring the family and stock up on the sunscreen.
How to get there
The best way to reach Huskisson and Jervis Bay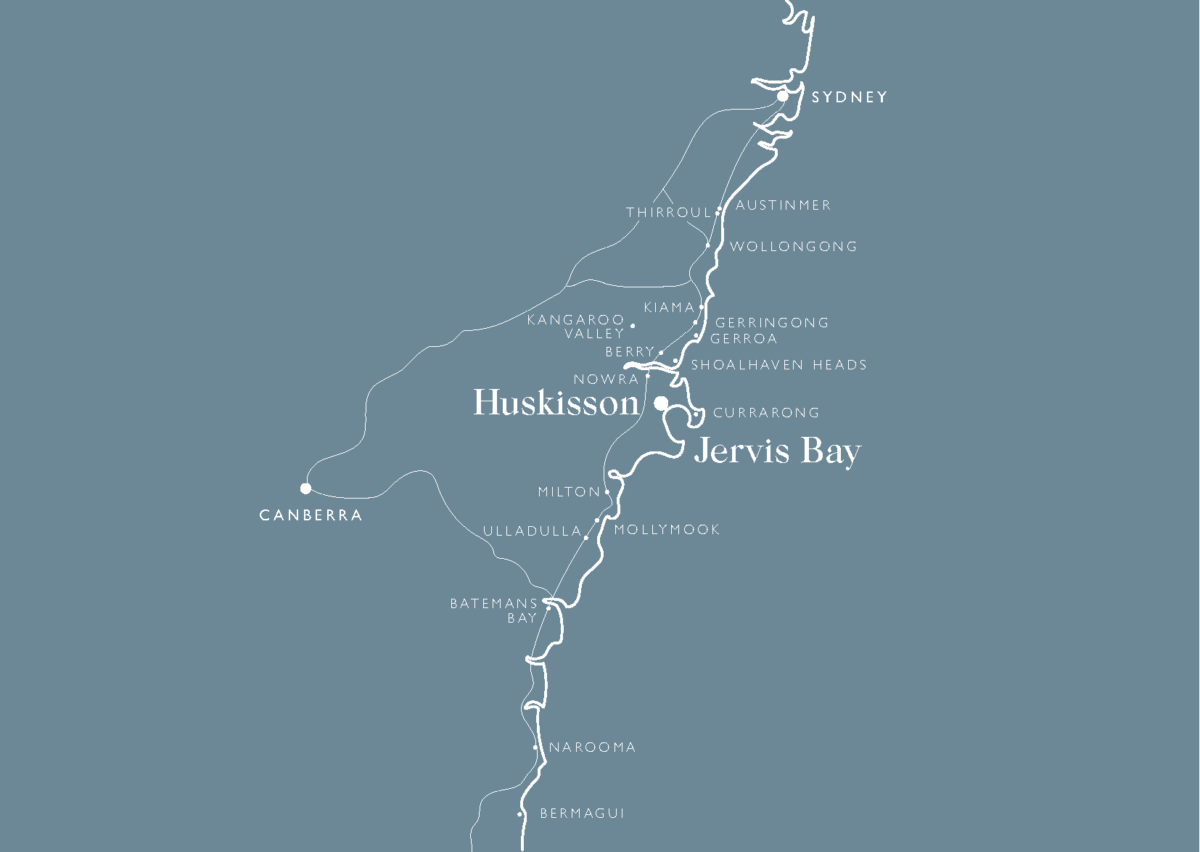 Huskisson is just under a three-hour drive from Sydney along the scenic Grand Pacific Drive. Alternatively take the train to Bomaderry (Nowra) from Sydney Central and take the 732 bus service to Huskisson; the whole journey should take a little under four hours. For those coming from afar, airport shuttle bus services run from Sydney Airport daily – book in advance.
---